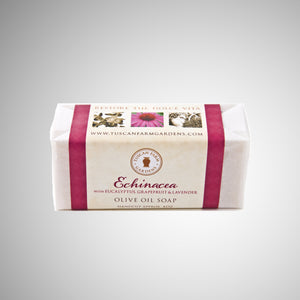 The tremendous health benefits in our echinacea olive oil soap come from the unique blend of essential oils chosen for their warming, antibacterial, and uplifting properties. With blossoms grown in our gardens, the echinacea leaf, flower, and tincture are known to fight infection, making this soap a winter time favourite.
Ingredients
Cold-pressed olive oil, coconut oil, rice bran oil, mango butter, castor oil, jojoba oil, apricot oil, avocado oil, and pure essential oils of grapefruit, lavender, bergamot, spruce and echinacea.

Our soaps are hand cut and never less than 130 grams (4.5 oz). More typically, they vary between 140 to 160 grams (4.9 to 5.6 oz).